What to Wear Under Your Scrubs?
Posted by Thermajohn Admin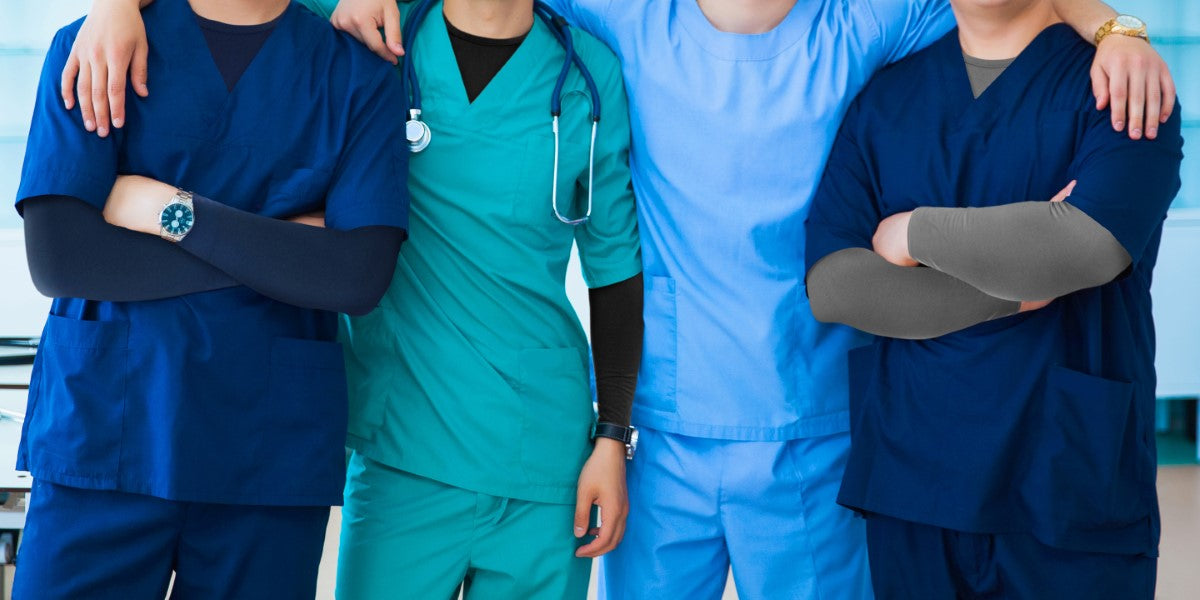 If you're a doctor or a nurse, freezing at work can sometimes be part of the job. Hospitals and clinics seem to be one temperature. That would be cold. You wear scrubs every day but may not be sure what's the best thing to wear underneath them to stay warm. Some types of clothing will be more effective than others. Wearing layers under your scrubs is going to be the best way to keep warm and comfortable for your shift.
Professionalism is Essential
Your appearance is essential to your work in the healthcare field. A patient will judge you based on how you're dressed. Your appearance will relate to honesty, knowledge, and, most of all, better care. Keep in mind that your scrubs should fit well and be appropriate for your workplace. Baggy and wrinkled scrubs send a wrong message to everyone around you.
Layering Under Scrubs is a Thing
Though Shakespeare never said, "To Layer or Not to Layer," it still begs the question of whether it's nobler to suffer working in a freezing hospital or wear a men's V-neck thermal top to stay warm. You have to admit that every department in the hospital is cold except for the boiler room or kitchen. 
No one ultimately loves a cold hospital, but there are reasons that the temperature is the way it is. Wearing additional layers like men's thermals will help keep you toasty while taking care of your patients. Keep in mind that there may be instances where you can't wear them due to cleanliness and contamination issues due to pathogens.
This doesn't mean you have to freeze outside of these areas. A snug-fitting men's V-neck thermal top is perfect for keeping you warm while you work. It will fit nicely under your shirt. It fits snug to keep you warm as it will distribute your body heat evenly, so you stay warm. It also has high moisture-wicking abilities. That way, you won't have to worry about ruining your day or your scrubs. This feature works by pulling sweat from your body and releasing it through the breathable fabric to keep your dry, which will increase your warmth and comfort level.
If your legs get cold, wearing some men's thermal pants will help keep them warm while providing the same benefits a V-neck thermal top will. This will be especially helpful if you live in colder climates or the middle of winter as you still need to protect your legs.
While wearing long underwear may seem old fashioned, they'll keep you warm on your shirt without the bulk that too many layers will give you. They also offer full mobility as the 4-way stretch allows you to move as much as you want. Thermals are an excellent fit for your work at the hospital or a clinic and are the best option for staying warm, dry, and comfortable all day.