Cowboy Up: Thermals on the Range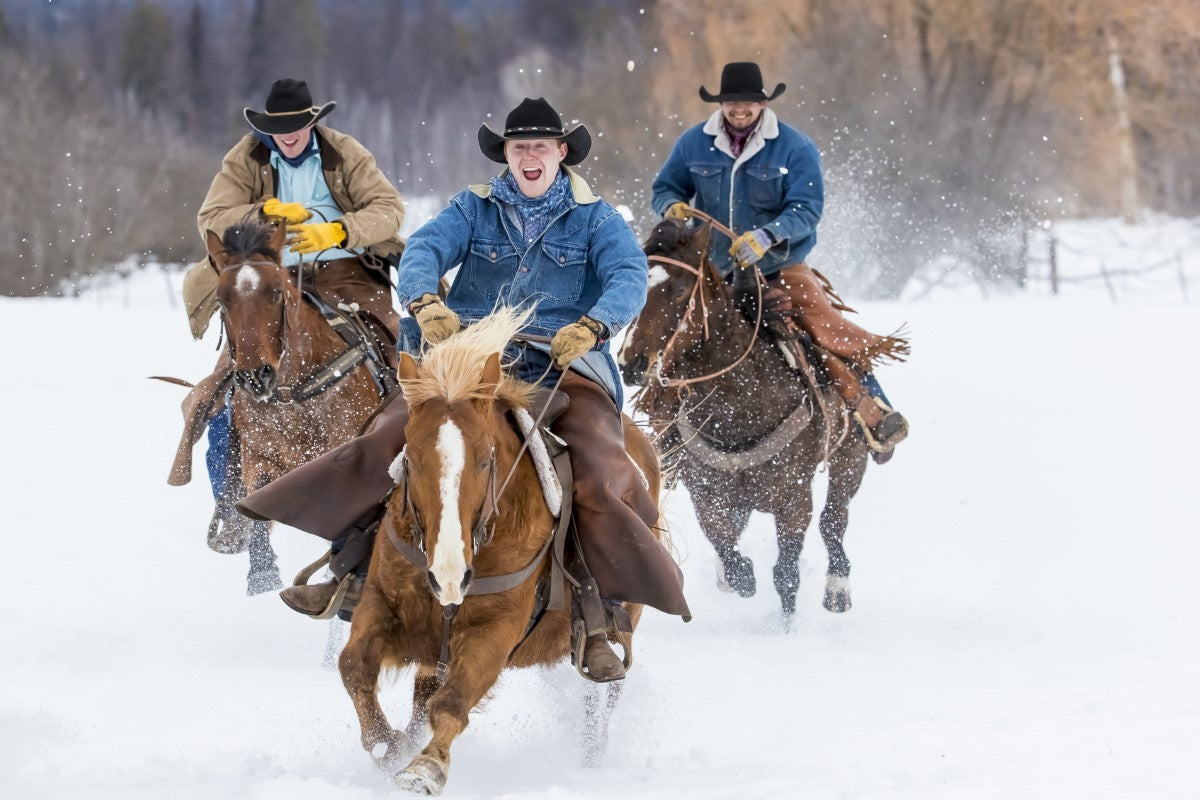 Working on a ranch can lead to sore muscles, and it's a big part of the life of either owning a ranch or working as a ranch hand. As much as Hollywood and other TV shows depict the cowboy spending all his time in the saddle or at a gunfight at the OK Corral, the work is a lot harder than the glamour of the silver screen.
It takes physical strength and mental fortitude to spend your days in the wide-open spaces exposed to the weather and the less than forgiving elements. On the physical side, lifting up to 100 pounds or a heavy pack throughout the day can cause some physical stress and exhaustion. You'll be caring for livestock and horses, cleaning out stable, dealing with animal's medical issues, seasonal chores, and for some, the rodeo circuit. 
Even when winter sets in, the work doesn't end. To add to your daily activities, dealing with the colder seasons is rough, and dressing right will help you get through the day. Wearing men's long underwear will help keep you warm and dry, not too mention adding some comfort to your regular grueling work in the outdoors.
Men's thermals will keep you from freezing in the cold temperatures of fall by wicking away sweat and keeping you dry. As you're storing equipment, making repairs to buildings and fences is an ongoing job, and waiting for the weather to clear up isn't always an option. Fall is the time of year when calves are weaned and the livestock adequately vaccinated. This is also the perfect time to chop and collect firewood before the freeze of winter gets here.
With the winter season comes the ranch maintenance. Cattle and other livestock need feeding every day as grass goes dormant, and the pastures are covered in snow. These days can prove cold and miserable, but wearing men's long underwear will help retain and distribute your body heat to keep you warm while you work. Winter is also the time for continued maintenance and fence checks and also a time for searching for that missing cow, sheep, or horse that got out. 
Layering is an essential aspect of living the cowboy life. Seasons can be brutal, but layers can more than make up for it. Every cowboy needs a base layer to keep him warm. You can only act so tough before nature proves she's tougher. The base layer will fit snug and pull sweat away. Stick with a polyester blend or merino wool for ultimate wicking and heat retention. 
Your regular clothes will work great as a second layer and will add more insulation to help add your warmth and comfort. Gloves, wool socks, the right boots, a proper jacket, and hat will keep frostbite and hypothermia away as you toil away in the snow. While the life of a cowboy on a ranch takes a lot of hard work and resiliency, Men's thermals will keep you warm in the saddle as you ride off into the sunset.