Keep Your Essentials Close: The Versatile Men's Compression Shorts with a Pocket
Posted by Thermajohn Admin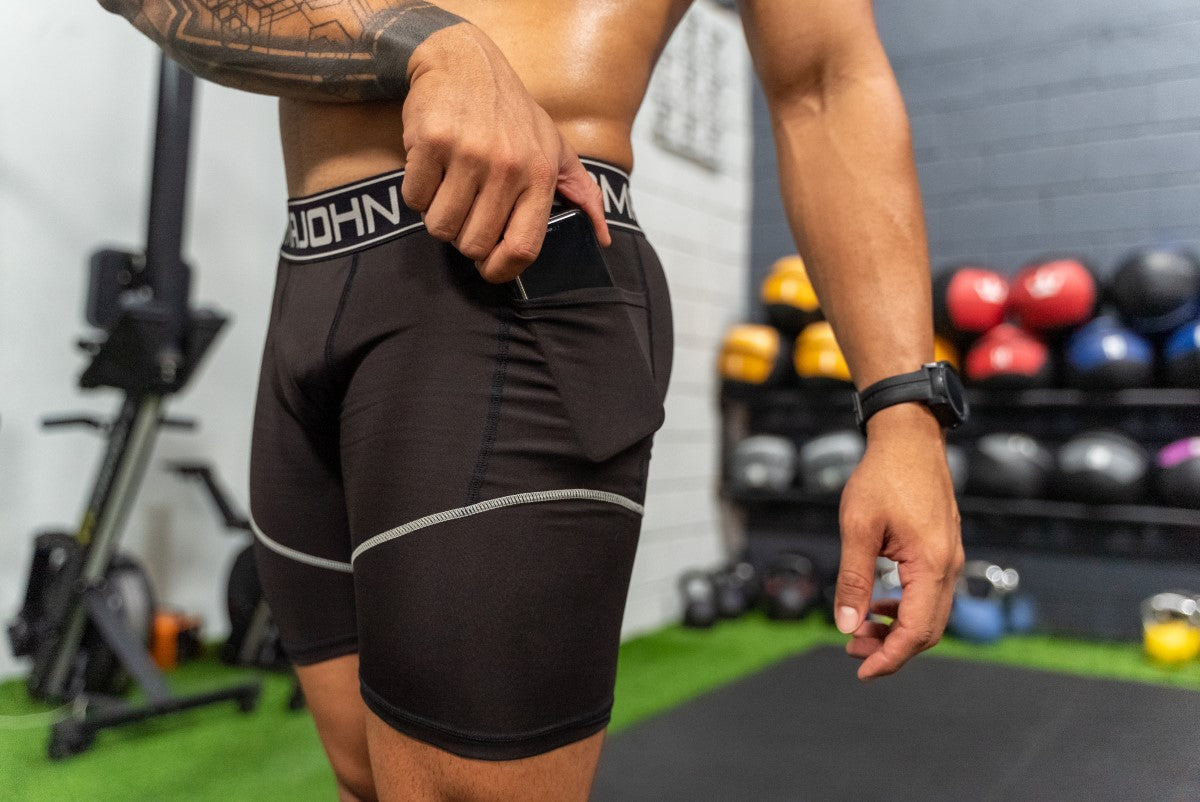 Are you tired of juggling your essentials while working out or going for a run? Look no further than men's compression shorts with a pocket. These game-changing garments offer the perfect combination of performance and convenience. Say goodbye to bulky armbands or fumbling with your belongings—keep your essentials close at hand with these versatile compression shorts.
1. The Power of Convenience: The Pocket Revolution
Men's compression shorts with a pocket are the ultimate solution for keeping your essentials secure and easily accessible. With a discreet pocket integrated into the design, you can effortlessly store items such as keys, cards, or small music devices. No more interruptions or distractions—stay focused on your fitness goals.
 2. Performance-Enhancing Compression: The Extra Edge
Compression shorts are renowned for their ability to provide muscle support, reduce fatigue, and improve blood circulation. When combined with the convenience of a pocket, these shorts elevate your performance to a whole new level. Experience enhanced agility, improved endurance, and the freedom to give it your all without worrying about where to stash your essentials.
3. Versatility for Every Activity: From Gym to Outdoors
Men's compression shorts with a pocket are not limited to the gym. These versatile shorts are ideal for a range of activities, from weightlifting sessions to outdoor adventures. Whether you're hitting the trails, cycling, or playing sports, having a pocket integrated into your compression shorts allows you to carry your essentials with ease and convenience.
4. Durability and Quality: Built to Last
When it comes to compression shorts with a pocket, durability and quality are key. Look for reputable brands that use high-quality materials and ensure the pocket is designed to withstand your active lifestyle. Choose compression shorts that can endure rigorous workouts and outdoor escapades without compromising on functionality.
5. Style Meets Functionality: The Best of Both Worlds
Who says you have to sacrifice style for functionality? Men's compression shorts with a pocket come in a range of trendy designs, colors, and patterns, allowing you to express your personal style while staying organized. Whether you prefer a bold and vibrant look or a sleek and understated style, there's a pair of compression shorts with a pocket that suits your taste.
Men's compression shorts with a pocket are a game-changer for anyone seeking convenience, performance, and style. With their integrated pocket, these shorts allow you to keep your essentials close without compromising on functionality. Experience the freedom of movement, enhanced performance, and the peace of mind that comes with having your belongings secure and easily accessible. Choose quality compression shorts from trusted brands to ensure longevity and durability. Whether you're hitting the gym, embarking on outdoor adventures, or simply running errands, these versatile shorts have got you covered. Stay organized, stay focused, and enjoy the convenience of keeping your essentials close. Embrace the perfect blend of style and functionality with men's compression shorts featuring a pocket.