Dressing for That Promotion
Posted by Thermajohn Admin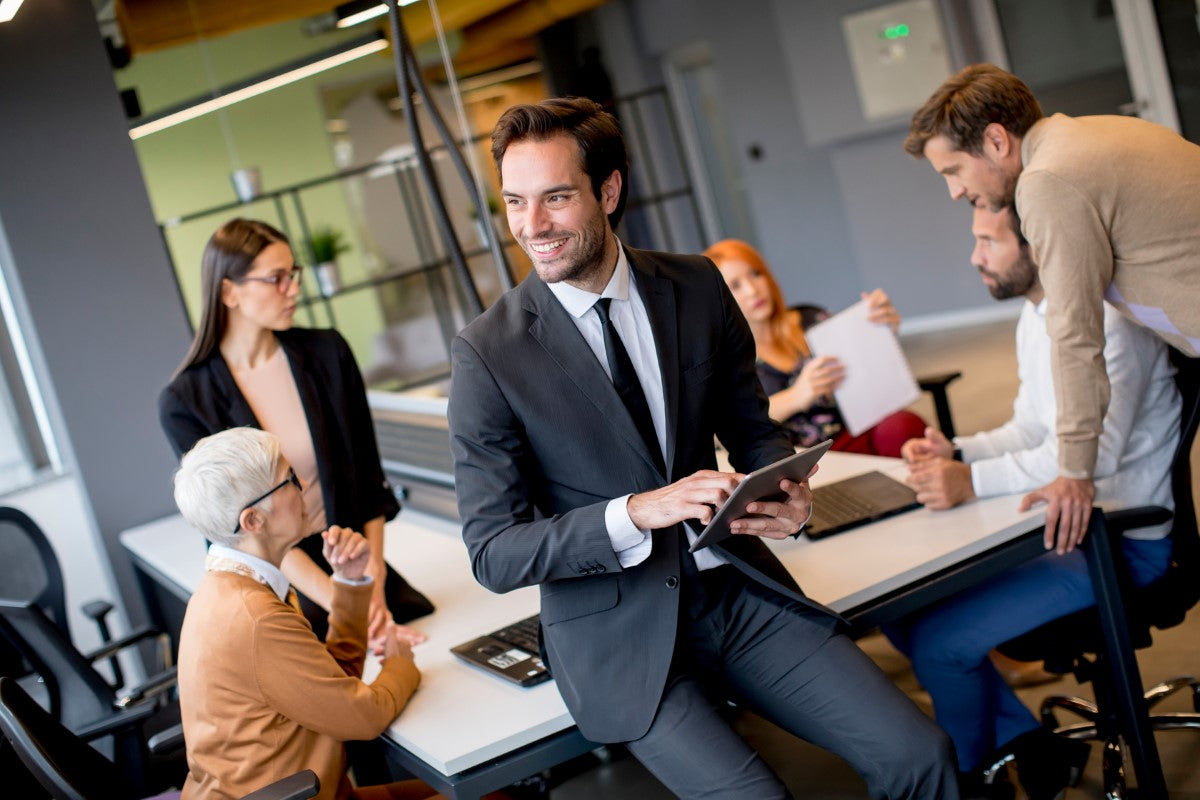 In advancing your career, what you wear matters. In fact, research has shown that dressing for success can help improve your performance and increase the likelihood of being promoted. So why exactly is dressing for success so important? When you dress the part, you feel more confident and capable. If you look good, you feel good. And when you feel good, you're more likely to do your best work.
Additionally, dressing for success sends a clear message to your boss and colleagues that you're serious about your career and looking to move up within the company. It shows that you're willing to invest in yourself and take pride in your appearance. So if you're looking to get ahead this winter, don't forget to dress for success.
The Power Suit: What to Wear to Make a Strong Impression
A power suit is the key to success in making a solid impression. The right suit can make you look competent, confident, and put-together. Here are some tips on choosing the perfect power suit for your next big meeting or presentation. First, consider the color of your suit. Black is a popular and traditional choice for a professional setting, but you can also go with navy or gray. If you want a bolder statement, try a bolder color, like red or green. Next, think about the fit of your suit. It should be tailored to your body and not too loose or tight. The jacket should also fall at the right length - just below your hipbone is ideal. Finally, don't forget the details! Make sure your shoes are polished, and your hair is neat.
The Right Accessories: How to Accessorize Your Outfit for the Winter
When nailing that promotion, your outfit choice in the winter can be the difference between looking like a boss and a slob. And while you may be tempted to throw on a pair of jeans and a sweater, taking the time to accessorize can make all the difference. First, consider your coat. A wool coat is always a good choice, but if you want to add a bit of personality, go for something with a pop of color or an interesting texture. Then, choose a scarf that compliments your coat and adds another layer of warmth. A wool scarf is always a good choice, but if you're looking for something more fun, try a patterned or fur-trimmed option. Also, thermal underwear for men, or even a men's thermal top, will work as a base layer under your suit to help keep you comfortable.
Building a Professional Wardrobe on a Budget
When it comes to building a professional wardrobe, it can be tough to do so on a budget. However, finding affordable clothing that will still look good and help you get ahead in your career is possible. Here are some tips for a professional wardrobe when you're on a budget:
1. Shop at thrift stores or consignment shops. You can often find gently used clothing at these places that are still in good condition and appropriate for the office.
2. Look for sales and discounts. Many stores offer sales throughout the year, so keep an eye out for when these happen. You can also sign up for store loyalty programs to get notified of special deals and coupons.
3. Buy versatile pieces that can be mixed and matched. Invest in a few key elements you can wear differently to create different looks.
Tips for Dressing for Success in the Winter
As the weather gets colder, you may think more about how to dress for success. After all, you want to look professional and put together, but you also don't want to freeze. Here are some tips for dressing for success in the winter:
1. Layer, layer, layer. This will help you stay warm while still looking chic. A well-fitted blazer is a great way to start your look, especially with a men's thermal top underneath for comfort and warmth.
2. Don't be afraid of color. Winter is a great time to experiment with richer hues and jewel tones.
3. Add some interest with texture. Play around with fabrics and textures to add visual appeal to your outfit. A cashmere scarf or velvet pumps are perfect ways to do this.
4. Keep your makeup simple. In the winter, less is more when it comes to makeup.
In the winter, it's essential to dress for success. Wearing the proper clothing can make you look more professional and put-together, which can help you get ahead at work. It's also important to dress for the weather, so you're comfortable and can focus on your job. Thermal underwear for men makes the perfect base layer and will wick away moisture. Also, wear layers for added comfort, invest in a great winter coat, and stay confident when you step into the interview for your promotion. You got this!