A Boy's Guide to Staying Warm at School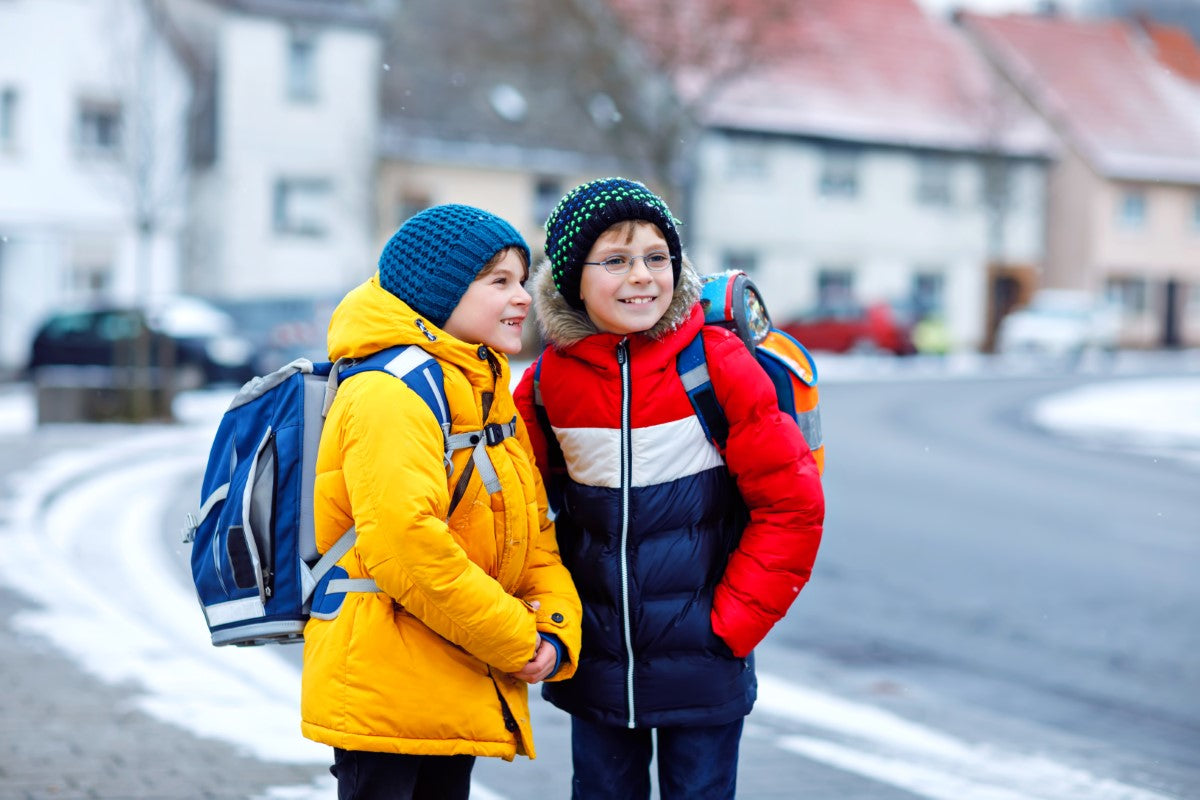 The secret to pleasing any kid is the ever-popular snow day. As winter approaches, the chances of snow, icy rain, or even blizzard conditions increase. For those boys who dream of a snowy day to avoid school, those days may be pretty limited. Like most of us, school is always open, even if there's a delay.
If the weather is bad enough to delay school, you know keeping your kid warm and comfortable is going to be an essential part of their day. No one learns well by shivering in the classroom. Also, buses don't exactly have the best heaters around, and although some school's heating systems do well, some don't, and kids are different – they'll tolerate different levels of the cold compared to others. 
So how do you dress your kid appropriately for the colder season while at school?
It's not too tricky, and no matter how much your kids may not want to go to school, education is too vital to miss miss due to a few snowflakes and a drop in temperature. Layering is the best option for your child and dependent if you live close enough to walk to school or not.
Its all in being prepared for the weather. It helps to think ahead of time while doing school shopping before the cold hits, but like many of us, thermals are always on the shopping list. Thermal underwear for boys will start you off on the right path and is an excellent way to hit the ground running when it comes to preparing your kids for their day at school. Boy's long underwear makes the perfect base layer.
The Base Layer
Layer… layer… layer…
This is the best way for your kid to stay warm and comfortable for the school day. A base layer of thermal underwear for boys is the first and most important layer. They should feel snug, almost like a second skin. Consider getting a poly-spandex blend as they will wick away moisture and redistribute body heat evenly. 
This fabric also comes with odor resistance to help eliminate smells caused by sweat. If you're worried about price, poly-spandex blends are easier on the pocketbook. As a base layer, you can't go wrong by outfitting your kids with some boy's long underwear.
This thermal layer will keep your child warm all day at school. While worn under clothes, he probably won't even realize they're there, but if so, thermals come in many colors, they're not just a staple of the colder months, but a statement of fashion as well. 
Layering will prevent your child from having to use too many clothes, which can help him focus as heavy/bulky clothing can make young children annoyed and unfocused. Once you have the base layer, you can use your kid's regular clothes and jacket as the other layers. Don't forget the gloves, scarf, and hat as well. A comfortable kid is more inclined to pay attention in class as the cold won't affect their focus on any of their subjects.