Layering Tips and Tricks
Posted by Thermajohn Admin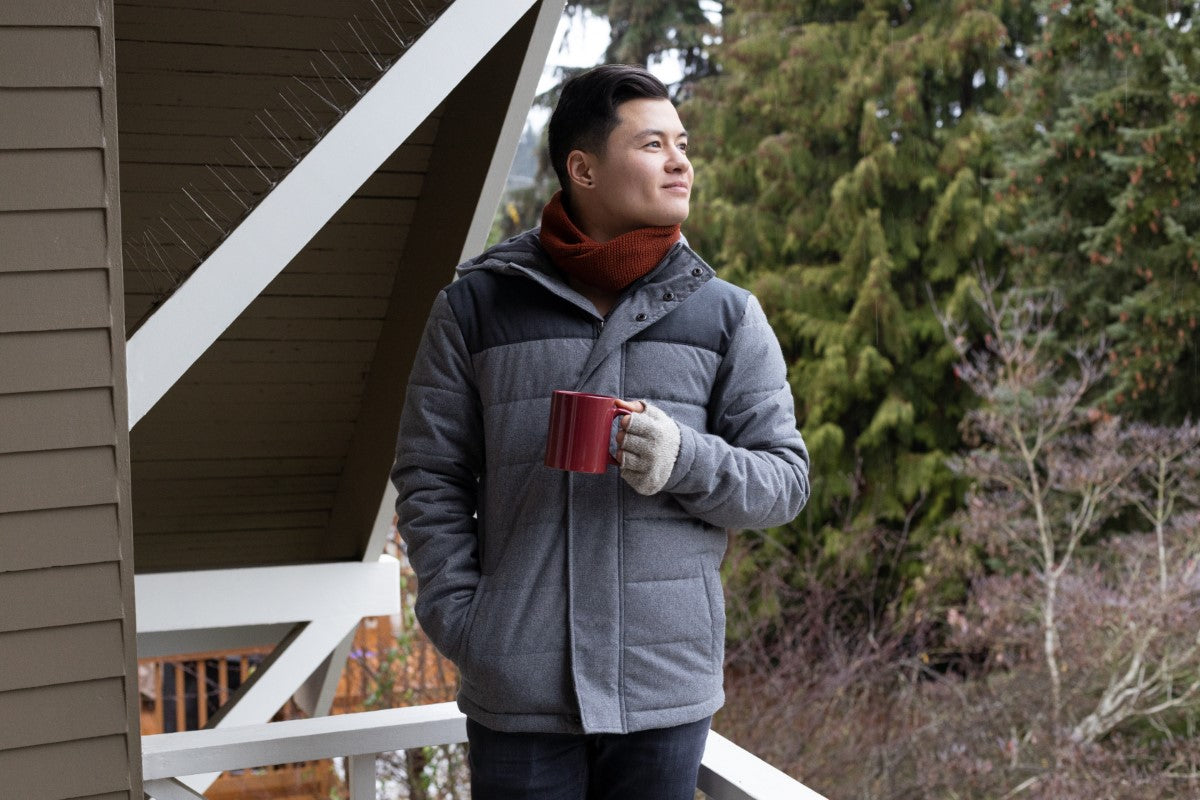 Layering clothes can be a great way to stay warm and stylish as the weather turns colder. Layering clothes is essential in creating fashionable outfits that are comfortable for any season. The basics of layering clothing are simple to follow. Plus, here are some helpful tips and tricks for layering successfully. From choosing the right pieces to styling your look, you can master the art of layering!
Dress for the Winter Weather
When the winter weather rolls around, it can be challenging to balance staying warm and looking good. To help you out, we've compiled some layering tips and tricks to keep you cozy without sacrificing your outfit. Layering is essential when dressing for cold weather - opting for multiple thin layers instead of one thick one. Start with an undershirt, followed by a long-sleeved men's thermal top or light sweater, then add a heavy coat if needed. Don't forget about accessories like scarves, hats, and gloves to help you stay warm while adding style at the same time. You should also consider materials when shopping for your winter wardrobe. Choose items made from fabrics like wool or synthetic materials that will provide extra protection against the cold temperatures outside.
Layering Basics
Layering Basics: Layering your clothes is a great way to stay warm and stylish. From lightweight men's thermals to heavy sweaters, learning the fundamentals of layering can help you build a wardrobe that will keep you looking fashionable in all seasons. First, starting with thin layers like men's thermals closest to your body is essential, and then adding thicker layers as needed. Light fabrics such as wool or synthetics are best for base layers because they absorb sweat. They also make a tremendous insulating base layer that provides warmth without adding bulk. For outerwear pieces, try adding a light coat or jacket over heavier garments for extra insulation against cold weather conditions.
Outerwear: Jackets & Coats
Outerwear: Jackets & Coats are essential for staying warm and stylish during colder months. Regarding layering, jackets and coats can be the perfect layer of insulation against the elements. Layering with a coat or jacket on top can often provide a unique look that is both fashionable and functional. From urban to retro country style, there are plenty of options when choosing outerwear for layering your winter wardrobe. Whether you're looking for something lightweight like a bomber jacket or something heavier like a parka, there are endless styles and designs to choose from. Look out for materials such as wool, cotton, or down-filled fabrics that will keep you warm while still being breathable enough, so you don't overheat in cold climates.
Tips for Styling Layers
Layering can add depth and character to your look. By styling layers the right way, you can create an outfit that looks effortless. Start with choosing items that fit well. This includes a men's thermal top. If your garments are too baggy or tight, they won't lay correctly. As a general rule, aim for pieces that fit snugly but still have room in the body, so they don't appear bulky when layered up. Next, consider adding texture to your outfit – this could be anything from chunky knits to delicate lace or heavy denim paired with lightweight silks. The more different textures you mix together, the more interesting the result will be!
Creating Your Look with Layers
Creating your look is the icing on the cake when layering clothing. It takes skill and confidence to construct an outfit that's fashionable and flattering. With these layering tips and tricks, you can easily create a unique look that expresses your style without compromising comfort or practicality.
Start with the basics: a good foundation of essential wardrobe staples in neutral colors such as black, white, beige, or navy blue. These pieces are vital for creating any look as they provide balance to whatever statement items you want to add to the mix. Once this groundwork is established, experiment with different silhouettes and fabrics to add texture and depth. Try adding a bright scarf or blazer over solid colors for an eye-catching contrast or using textures like leather or knitwear for more interest.